The

quickest path

to catching specks and reds in Louisiana
What do you get with LAFB Elite?
You become a special member possessing access to ALL the goods:
Unlock These Courses
Inshore Fishing 101
The foundational knowledge used by fishing guides and avid anglers to catch limits of speckled trout and redfish.
Discover these time-tested techniques and what tackle works. Find biting fish and know what to do when the fishing gets tough.
Inshore Fishing 201
Advanced angling to catch fish where conventional methods fail
I show you how to master casting tackle and artificial lures to achieve presentations big speckled trout and personal-best redfish cannot resist.
Sight Fishing
Mastery School
The skills and knowledge you need to locate, see and catch redfish in crystal-clear water.

This course will change how you fish and, honestly, you may never fish in any other way once you do!
You get this, too
Inshore Fishing Webinars
Live presentations on inshore fishing know-how with a question and answer session at the end.
When you're a member, you get exclusive access to all of them!
Seminar Playback
Attending a seminar requires a ticket and the hassle of travel.
But if you're a member of LAFB Elite, you get to watch them anyways because these are recorded for members to watch whenever they like.
End Frustrating Fishing Trips!
See Exactly Where and How to Fish
My fishing trips are recorded, so you can see how to locate and catch fish, in all conditions.
They are organized into three steps:
Planning Phase

The Fishing Trip

Post Trip Review
Join me as I look over the conditions and decide where to go.
Plus, you see each spot that is picked and why.
This way you learn how to plan a great fishing trip!
Each spot is recorded so you can see how I fish them.

You'll see how to position the boat, cast to fish, change lure colors, know when to leave a spot and more!
This is where it's at!
The days GPS tracks are uploaded to Google Earth, so you can see everywhere I went and what happened at each spot.
The experience gained is transferred directly to you!
Watch a limit of trout being caught, but only members get to see where and how it was done.
Each module inside LAFB Elite uses integrated commenting so you can ask questions to get the answer you are looking for.
In fact, this page has one, too. Just scroll to the bottom and ask me anything about LAFB Elite.
Louisiana

Specific
Knowledge
Louisiana's inshore waters are unique, and catching fish across her coast requires expertise only a native could possess.
I'm from Louisiana, and have fished all over her coast, to include guiding clients in the marsh and competing in redfish tournaments.
Your 100% No Questions Asked Money-Back Guarantee
You are fully protected by a 100% Satisfaction-Guarantee.
If you're not 100% satisfied with LAFB Elite then you'll get your money back.

No questions asked!
---
What Members Are Saying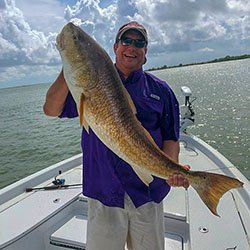 Willie Brown III
Louisiana Native
Great Fishing Trip Made Possible
A great fishing trip was possible because of being an LAFB Elite member, I've learned so much about trout fishing from Captain Devin, and as someone has already said, the discounts alone pay for the membership!

But the knowledge is priceless, Devin is so right, "Fish like to be comfortable, find the things they like and you will find the fish!"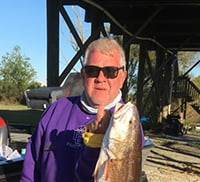 Great Instruction
As a safety manager for a large oil and gas company, I pride myself on instructional and educational skills. It still holds true: keep it simple, keep it interesting, and be factual. Captain Devin has this down pat.
P.S.
Membership prices will increase as LAFB Elite grows in popularity.
If you get in now, you won't have to pay that difference.
Get the annual membership now!